What if you could take away ten whole years off your age in just a couple of minutes? Well modern day science says you can, at least off your appearance not your driving license, and no one is listening in more keenly than Hollywood stars. The obsession to look younger has taken Hollywood by storm and even though most of the stars lie through their teeth when asked about being under the knife, we know the truth don't we?
Plastic surgery has come a long way since terrifying pictures of Michael Jackson (God rest his soul) made us wonder why someone would subject themselves to such harm. Nancy O'Dell's plastic surgery is a good example of what modern day plastic surgery procedures look like.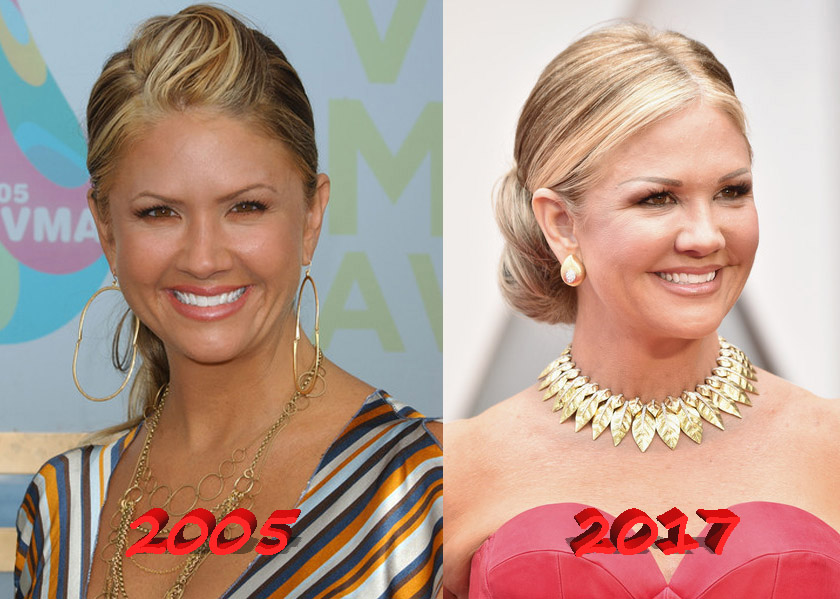 You would easily mistake the 51 year old mother of one for a woman in her late twenties. No wrinkles, firm full bosom and curves for days are the results you would obtain if you looked up Nancy Evelyn Humphries in the dictionary. The E! Host has more than looks going for her if her net worth (read $9.5 million USD) is anything to go by. The Clemson university alumni is doing well for herself and she doesn't really have her bachelor's degree in marketing to thank for that given that her calling was more in entertainment and not marketing. She knew this from an early age and that's why she opted to join WPDE-TV as an anchor immediately after school in her home town Myrtle Beach, South Carolina.
Looking better to feel better seems to be the mantra that most Hollywood stars are living by. I don't mean popping into Louis button for a pair of heels that cost more than the car you are driving, no, I mean scheduling an appointment for a monthly or maybe weekly Botox injection.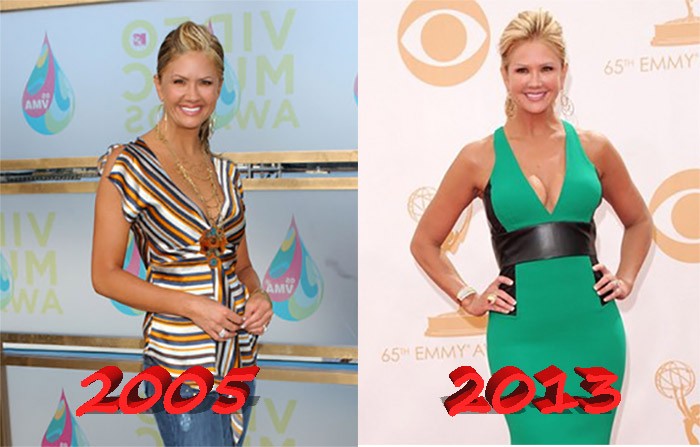 Is this the reason Nancy O'Dell doesn't have a single wrinkle on her forehead?
Well she says no but we all know she hasn't been bathing in milk and honey for that flawless face of hers so we will go with Botox injections. Miss South Carolina 1987 seems to have gone all out with her quest for beauty and a more youthful look and pictures of her before and after surgery, or surgeries, is testament to this. Her nasal shape is distinctly different since her days as Mrs. Dr. Richard O'Dell whom she got divorced from after nine years of marriage. This is a clear indication of a nose job (Rhinoplasty) and not just better angles during a photo shoot yes?
It is still unclear why Mrs. Keith Zubchevich is divorcing her husband but what's clear is breast augmentation that the scream cast member has had done and if reactions online are anything to go by then the general public agrees that the surgeon did a very good job. Fuller lips are always a good thing, just ask Kim Kardashian, and Nancy O'Dell has not been left behind by the fuller lips and cheeks craze. The Nashville Star host has fillers to thank for her youthful looks as a result of the fuller lips and cheeks. Either that or a facelift or maybe both, all in all she looks amazing and we like Nancy O'Dell's plastic surgery results don't we?