Big Ang legally known as Angela Raiola is one of the most favorite co-stars in reality TV Mob Wives. She is also the owner of the Staten Island's drunken monkey and the Miami's new Miami monkey bar owner where she likes to spend times and has drinks.
Apart from being a reality star and businesswoman, the 53 years old is daring and is known for her bold outlook and loving to talk the walk regardless of the consequences.
Plastic Surgery Confessions
The great thing with Big Ang is the fact she doesn't hide her love for plastic surgery.
In fact, she is completely open about it and gets to put media speculation to rest as soon as it emerges with either confirming or denying a procedure. One notable fact with her is that she actually loves big boobs and states clearly that she has always been big chest individual.
Her desire to have bigger boobs started in 1985 where she enlarged them by having sponges putting in them.
She continued on a state that she has already had six various surgeries and she is obsessed and wants more and more of them.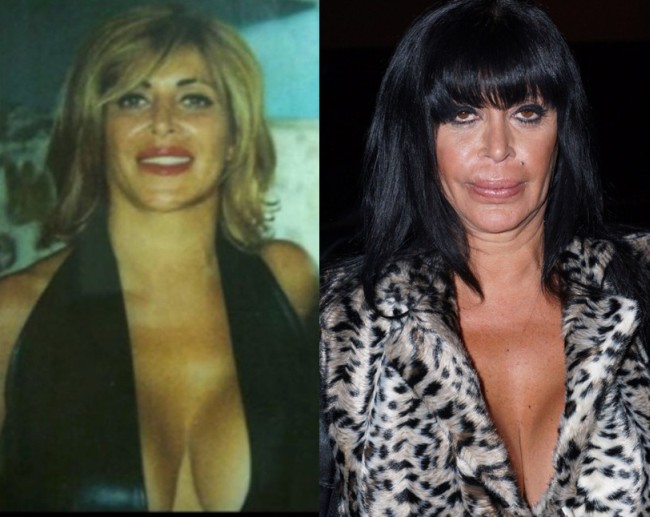 Jobs done
After every few years, Angela is known to revamp her whole outlook with facelifts in order to keep her age at bay.
At 53 years old the skin on her face is taunt and has very few fine lines especially on her forehead. Her body is also toned up a fact that she attributes to working out.
However, she has also admitted to the fact that she has had three breast augmentation procedures done to give her the voluptuous chest that she is associated with.
Other procedures that she has done include a tummy tuck, some work is done on her arms and laser liposuction to keep all the fat deposit away from problematic areas.
Opinion on her surgeries
As she likes to wear extremely revealing swimsuits, it's not difficult to get photos that pinpoint to the changes that she has had over the years.
They show a lot of changes and the extent to which she does undergo the plastic surgery procedures is shocking. Regardless some before and after pictures show off a big busted Ang other show of small busted.
Her facial features show extensive of Botox injection to keep fine lines at bay. Media speculation is also ripe on if she does use lip injections to keep them pouty and full of vigor.
Many people are still at log ahead's of what to think about the outlook of Big Ang. This is largely to the fact that it actually keeps on changing drastically and transforming her look completely. Regardless many of her procedures have over the years made a difference in hiding her aging.
However, in recent past, it is not at all difficult to point out that the facelifts and Botox injections have gone to an extreme level and are starting to get a fake appearance that is appalling especially so when she smiles.
Reduction in between the procedures would do her justice before she officially enters the list of most botched plastic surgeries list.