Model and actress Christie Brinkley is already 61, yet she looks much younger than you'd expect.
When interviewed by the Daily Mail, the actress shared some of her beauty secrets listed in her book titled "Timeless Beauty" where Botox and non-surgical fillers are mentioned. It is unusual to look so young at your 60s, but Christie does. One of the things that set her apart from most of other Hollywood stars is the fact that she has admitted to using Botox to keep young in the face and keep her wrinkles successfully contained. Her face is a no wrinkles zone, and you will hardly find any.
Many people have been suspecting that she might be using different procedures to gain her youthful looks.
What procedures do you think she might have used so far?

Facelift Procedure
The American model and actress has confirmed something that has been treated as rumors for quite some time.
She admitted to getting a facelift to change her physical appearance and to maintain her youthful looks. Truth be told, Christies Brinkley looks super sexy. She looks nothing close to 61 in age. Being a model and an actress, she knew her looks must remain perfect if she is to continue ruling her territory. Many magazines are still chasing for her to appear on their cover photos. She opened up about getting her facelift without having to use needles. Some of her fans have expressed their disappointment in her unnatural changes.
However, most of her fans and many other Hollywood enthusiasts have admitted to loving her new looks. Her face is tighter are more defined.
Botox Injection
She has also admitted to using Botox to remove the wrinkles that we all expect to see on a 61-year-old face. People kept asking why this woman doesn't seem to age at all.
She said she has stopped using Botox because she didn't like it at all. Some reputable cosmetic surgeons who have studied her past and previous photos think she still uses Botox injection. Her face is smooth from the forehead all the way down. No wrinkles can be seen on her face. She also used Botox on her neck and it looks stunningly amazing, believe me. This is one of the most successful cases we have witnessed in Hollywood. She surely looks great.
If you didn't know who she is, you'd think she is still in her 20s (or 30s at worst). Do you think she is still using Botox?
Eyelid Surgery (Blepharoplasty)
Look at her eyes and tell me if you notice any changes. That's right. She has changed on the eyes too. It is rumored that Christie Brinkley went for blepharoplasty to get her fresher looks. Many people have expressed their take on the changes in social media. Comparing her eyes in the before and after photos reveal that she has made her eyes a little wider, and sexier.
If it is true that she had eyelid surgery, then whoever performed it knew exactly how. Her eyelids are perfectly balanced in size and shape. This Hollywood actress has some amazing eyes that many of her fans really envy.
Are you one of those who envy Christie's eyes?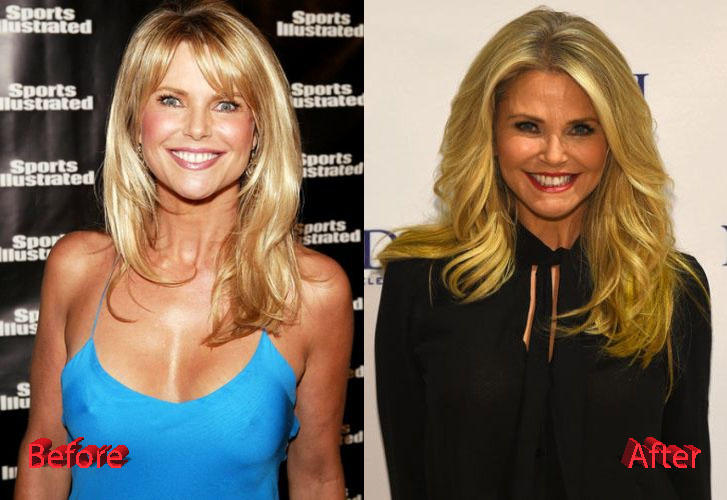 Lip Fillers
Comparison of Christie's past and present photos reveal a change that is too great to be natural. Christie Brinkley has changed a lot over the years. Many people love her new looks, but there are parts she has denied changing with Plastic Surgery. It is suspected that her lips must have been boosted too.
This rumor is based on the fact that she has fuller lips that make her smiles as magical as the transformation itself. She has not confirmed this rumor yet, but the photos seem to be right. All we are saying is that she looks perfect with her new lips.
They are a little wider, and with a clearer outline, meaning that something must have been done to change them.
But for how long will she keep changing her looks? Her fans love her for who she is, and her new look has gained her more likings from her fans. However, there is a section of critiques who think she is going too far with the cosmetic procedures.
Though she has admitted to having used Botox and facelift, some of Christie Brinkley Plastic Surgery procedures mentioned here remain to be rumors until she confirms them, though we don't count on it.
What parts do you think she boosted?
Christie Brinkley Plastic Surgery Before and After Photos