Born in New York 76 years ago, Jane Fonda has had a successful acting career since rising into the limelight in the 1960s. Apart from acting, she writes, models and she prides herself with unparalleled fitness prowess. At 76 years of age, Fonda still looks great and sensational, she still appears in movies and people like her. What is her secret? What is it that lies behind that look? Jane Fonda just seems to have defied Mother Nature's aging demands, she has braved her life journey and still looks strong at such an advanced age. Questions were raised and that explains the speed with which Jane Fonda's plastic surgery went viral on the internet.
Cosmetic surgery is a common phenomenon among celebrities and Jane Fonda publicly confessed it is among her secrets for her current look. Although many celebrities go under the knife to improve their self-esteem, Fonda claims this was not the reason for her cosmetic procedures. Many celebrities confess to having yielded to the public pressure of looking trendy and great hence their choice for cosmetic surgery. Jane Fonda's case was different, she has claimed in several interviews on newspapers and TV shows that her reason to go under the knife was to have her look reflect how she really felt inside; Fonda says she had grown weary and tired of not looking like the inner core of her being. She further does not shy from saying her cosmetic procedures have worn her extra years in the movies at a time when she should have retired.
After consulting a top class plastic surgeon, Fonda ultimately went under the knife to have her chin, eyes, and neck operated. She has had several procedures over her lifetime-she confesses to having undergone a facelift early in her 40s; she additionally had another facelift recently in 2010. In her early age, Fonda had breast implants and confesses to having undergone a chin lift recently. After having specialized surgeons remove the bags below her eyes, Fonda does not have a tired old look. Fonda accepts that she feels younger and has a positive attitude towards aging. Some reviewers of her before and after surgery photos claim that she is a "glamorous grandma". Truly, it is hard to believe that Jane Fonda is 76 after a quick look at her.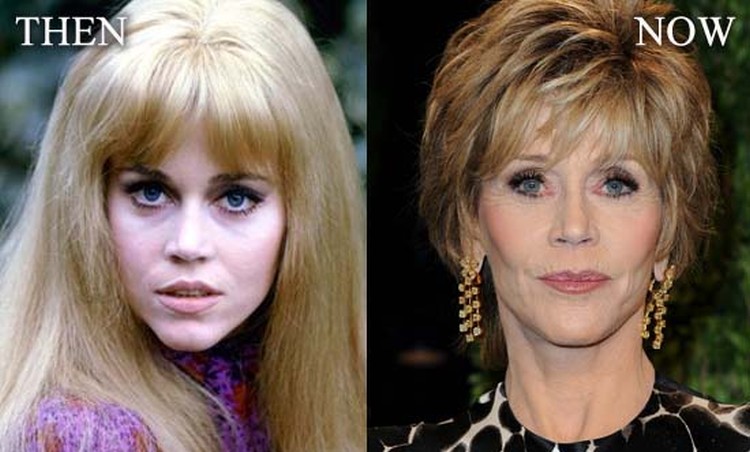 One thing anyone will note after looking at Fonda is that she looks so natural. Why? Fonda answers to this question by saying that she didn't want her procedures overdone. When having plastic surgeries on her face, Fonda insisted that the Doctors retain her wrinkles. And where did her slight limp walk go to? For those who do not know Fonda has an artificial hip and a knee made of titanium.
Jane Fonda's plastic surgery is not all that lies under the hood of her sensational look; at least according to her. At 76, Fonda can drive and walk out of her car without help. This clearly proves her prowess in fitness. She did rigorous exercises in her early years and has now evolved her exercising into gentler and low impact exercises like yoga, cycling and walking. Jane Fonda is a manifestation how good cosmetic surgery and exercising can be for successful aging.