Kaley Christine Cuoco, who is simply referred to by the public as Kaley Cuoco, is a 31 year old American actress. She had popular roles on TV series like Simple Rules and Charmed, but her fame comes mainly from playing the role of Penny in the hit comedy show The Big Bang Theory. Kaley has also been in movies and won several awards for her TV appearances, but she hasn't made a successful career on the silver screen so far. Kaley Cuoco Plastic Surgery rumors are a direct consequence of her popularity. It seems, however, that it is more than just a rumor in the blonde beauty's case.
Kaley Cuoco is a beautiful, sexy woman with her girl-next-door appearance and quick wit. However, Hollywood is a very competitive business to be in, and as she becomes a TV veteran, some wonder to which lengths the beautiful blonde would go to in order to maintain her fresh and beautiful looks.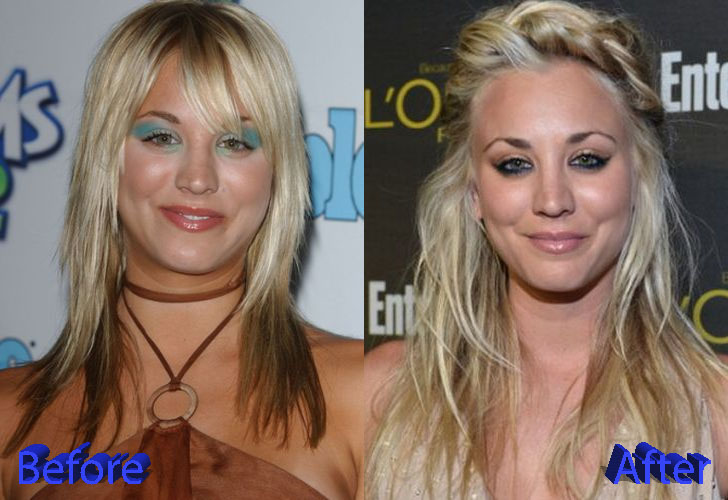 Kaley Cuoco Plastic Surgery confession was made by actress herself, which proves she has gone "under the knife" and is proud to have done it. In fact, she says that it was getting the procedures done that gave her confidence to reach the success she enjoys today. But what surgeries did she have then?
If her recent interviews are to be believed, Kaley Cuoco has had 3 key procedures done over the years: a nose job, a boob job and fillers applied to her neck. She said in an interview that she had her rhinoplasty "years ago", suggesting the procedure was done in the early stages of her career. This is quite a usual practice for young actors and actresses, who fix their noses in their early adult lives in order to look more attractive and further advance their modeling and acting careers.
In relation to her breast augmentation, the actress does not give any indication about the timing of the operation, but she admits it was "the best thing I ever did", and one would have to agree, as her bosom looks nothing short of naturally generous, with the right shape and height for her frame.As for the neck fillers, it seems that the procedure was more recent, but it had nothing to do with actual aging. According to Kaley, it was done to correct a line she had in her neck since she was a pre-teen – about 12 years old, she says.
While people will always argue over the necessity for cosmetic procedures, it seems the case of Kaley Cuoco Plastic Surgery Procedures was quite a successful one, especially seeing as each procedure seems to have been well researched and planned so that her looks and confidence both came out enhanced.Kaley's attitude towards the subject of plastic surgery is also quite refreshing and inspiring for other young actresses and actors who might want to enhance their looks in order to make it in the small or big screen.At a time when it is so common for people – both in the show business and out of it – to have temporary as well as permanent enhancements done to their appearances, it is a shame that not many beautiful young women are willing to follow in Kaley's steps and admit to their tastefully done work.
Kaley Cuoco Plastic Surgery Before and After Photos