Meghan Markle is in the hit series Suits, and soon to be a princess, but did you know that allegedly she's had a little bit of cosmetic help to look the way she does? People all over the world are now asking their plastic surgeons for a Meghan Markle Nose Job.
She has appeared in some big budget movies like Horrible Bosses and Get Him to the Greek, but it was her role as Rachel Zane in the drama Suits, that got her to star status. Even if people in the UK were unaware of who she was, the second that Kensington House announced that she was engaged to Prince Harry, she became a household name around the world with everyone clambering to know more about this beauty.

What About Meghan Markle?
Originally from Los Angeles, California, she was born on August 4th, 1981. Her mother is African American and her father Caucasian, roots that Meghan is rightly proud of. It was her father who introduced her to the lights and glamour of Hollywood as he won an Emmy for his lighting direction work.After getting engaged to Prince Harry in 2017 there has been much speculation about who will be bridesmaids. Two names are firmly at the front of the running according to a lot of the press. Serena Williams who is tennis royalty in her own right. The two have been friends for since meeting at a charity event and have developed a close bond. The other is a superstar of Bollywood, Priyanka Chopra.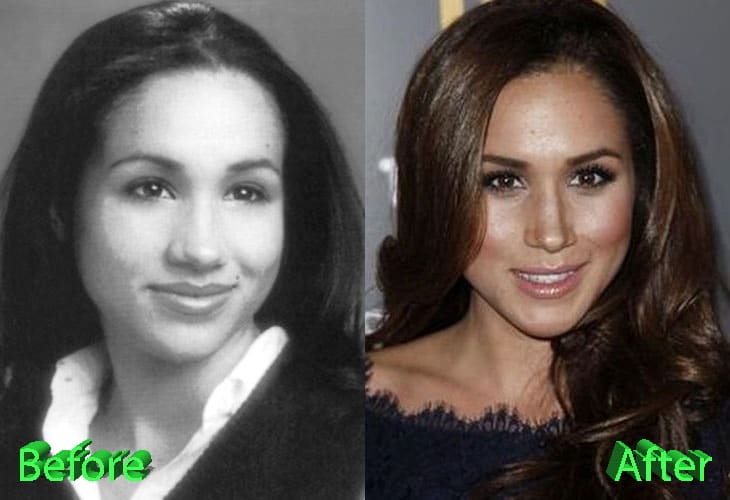 Is Meghan Markle Nose Job True or Not?
Speculation is that at some point in 2011 the Meghan Markle Nose Job was done. It was not a massive change in her face but there is definitely a difference. We know that the work was done around this time because of her red-carpet appearances. After 2010 there was a conspicuous gap until she reappeared in 2012 with her newly modelled nose, it seemed that she has had rhinoplasty surgery. It also seemed that over the next few years she had fillers put on her lips with little signs of bumps around her lips which are consistent with the procedure. Both are subtle but pronounced changes, and go alongside the teeth whitening she has also had done.
Since her explosion on to the world, plastic surgeons are reporting a huge in women requesting the Meghan Markle nose job. It seems that the slight point and small nose is now the must have the nose. How long this trend will last for though is anybody's guess. It could be a look that stays relevant for years.

Would You Get THE Look?
Public opinion on plastic surgery has changed massively over the years. It used to be only the rich and famous that could afford it and rightly or wrongly they went under the knife. People like Michael Jackson and Meg Ryan are examples of having too much work done. They have been ridiculed for the way they look and in the beginning, was a case of more money than sense.
These days whether for health or personal reasons, plastic surgery is just part of the norm. Botox is a common feature on every high street as well as breast enlargements and reductions. It seems that nobody cares that Meghan Markle Nose Job is true or not which is good. If she wanted it done for personal reasons or to slightly help her career, then go for it. At the end of the day, and this applies to us all, our body is our body.

The Result
As the next princess, Meghan will fit in perfectly with the royal family. With herself and Kate, the future of the monarchy is secured. Both beautiful, inspiring and humanitarian women. The public loves them and aspires to look like them, whether that's with their hairstyles, clothing, or in this case, Meghan Markle Nose Job. Looking like royalty  cannot be a bad thing surely?
So, while we will see Meghan in the tabloids and broadsheets and all over our TV screens for the foreseeable future will we ever get sick of her? It is doubtful. She is a success in her own right as a philanthropist, businesswoman and actor all of this character make her famous and many of people seem to love her.