Sofia Vergara is a popular Colombian model and actress known for her participation on many films and TV shows and most of all her killer looks. For a 42 year old woman Sofia is looking so fabulous. This year Forbes ranked her in position 32 among the most powerful women worldwide.
She has many accolades to her name and has taken part in many advertisements, television series and has had a successful career. The beauty was quizzed on Sofia Vergara plastic surgery and she was surprisingly and beautifully confident on whether she would undergo any surgical procedure.
She hasn't had any procedure this far but she isn't ruling out the possibilities yet. She may want to alter a part of her in the near future, maybe her eye bags later in her 50s but she will have to weigh what she needs before making such a hasty decision. The 42 year old beauty is known to take her beauty regimens very seriously and it could be the reason behind her good looks. She takes her sweet time in getting her makeup done and is known to have many beauty products which she uses in her rituals. Her before and after pictures are pretty much the same with a few years added perhaps which is normal.
The actress who has admitted to being high maintenance invests on products and upholds preventive maintenance claiming that once the skin has sagged it remains as so and there is no way it will go back to being as it was formerly.
Many would kill to have her body since at such an age both her figure and face are really appealing. She says she'll definitely undergo minor alterations hoping that when she does decide to, better treatments will have been developed in the medical field in relation to cosmetic surgery of course.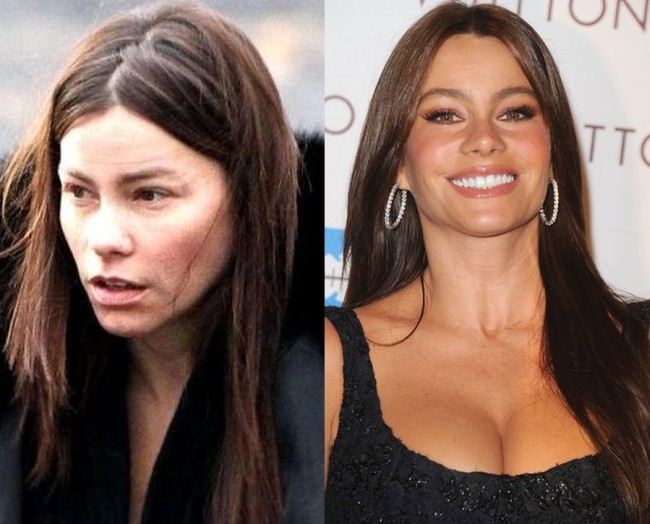 She has given warning statements though. According to her, she would undergo surgery to look prettier but not more youthful. She says that trying to look youthful is a losing battle and that's the main source of disastrous accidents. At the beginning of her career she got encouragement to undergo breast reduction but thanks to her mother's advice she stood her ground. Her publicist back then kept urging her to get her breasts reduced since she was really voluptuous.
There is so much pressure in Hollywood from casting directors, publicists, and agents who push for ideas into the minds of many stars urging them to go for implants, nose jobs, and breast augmentation. Quite honestly it is hard to find a celebrity that has so much pressure on them like Sofia maintaining their natural look and are still looking and feeling so confident. She has nothing against cosmetic procedures or those who opt for them.
Truth is that she is lovable with or without Sofia Vergara plastic surgery. Her natural curves look much better than those of many who have gone ahead to get an enhancement. Well, it is relieving to know that there are still some celebrities who appreciate their appearances and can make sober statements and judgments on the same.
Sofia also makes it easy to realize that one can remain beautiful without the help of Botox injections, liposuction, facelifts, cheek or lip implants.