Ashley Judd, 46 known for her early entry in the industry while she was still young, breaking into the large screen with "Ruby in Paradise" in 1993. With her, more recent hit show series "Missing" and starring in "Olympus Has Fallen" as the president's wife and divergent as the protagonist mother,
Ashley Judd is viewed as a wonderful actress blessed with both beauty and brains by her fans. Having a Harvard University Kennedy School of a government masters degree in public administration she is definitely brainy with a fantastic face to help her advance her career in the film industry.
Rumors of Ashley Judd plastic surgery
Media and social media went wild in 2012 stating that Ashley Judd has performed plastic surgery on her already beautiful face. With the rumors begging after she landed in Toronto Canada for a talk show, the actress had an extremely puffy face which can easily be seen in her before and after photos.
With the media stating that the puffy face is due to a backfire in the Botox injections taken. The social media part still stuck to the fact that she went under the knife to reduce her chances of being replaced by younger and prettier faces.
The media went into the extent of patronizing her saying that she did not need the surgery as she was already successful and extremely beautiful.
With no medical advice behind the rumors, the mainstream media went ahead and had numerous talks of how Ashley had a condition which they have come to be known as "pillow face".
This claim is seen when the face is subjected to too many fillers and can no longer accommodate them, thus making the face appear rounder, puffier and lifted up.
However surgeons asked to commend of the Ashley Judd plastic surgery stated that even though it may be fillers, there are no actual signs that the actress has had permanent changes done to her.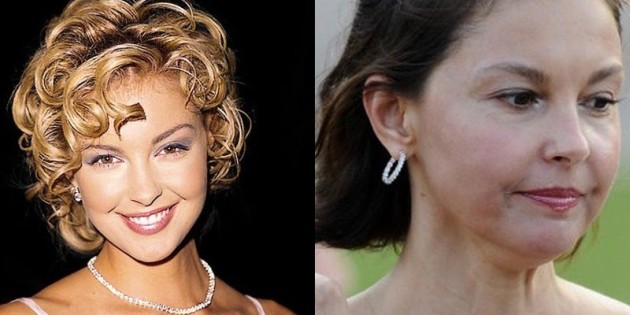 Plastic surgery denial
Ashley Judd came up out after the plastic surgery rumors became unbearable to her. This she has done numerous times saying that at that time she had been suffering from sinus, in which she had to be administered steroids which were the major cause of the bloated look.
However, she went ahead and condemned the media on publicizing false comments and articles about her. She went on to add that in search of a story the media looks onto female celebrities who seem under constant microscopes due to their looks. She concluded her statement saying that it was a sad fact that people have to be misinterpreted all the time for all issues.
In more recent appearances Ashley Judd seems to spot her usual slender pretty face which flatters her most. Asked on how she felt about the rumors she stated that she felt victimized by not only men but also women and was also depressed by the numerous comments about her.
In addition, she added that she does not need to have plastic surgery performed on her, as she feels content with her looks and that she looks to aging gracefully.
Save