Julia Roberts is a household name and is probably one of the most popular celebrities internationally. Brought to fame by her Oscar-nominated romantic comedy "Pretty Woman" in which she played the lead character.
Roberts first role was way back in 1988 in "Satisfaction". The actress also is an Oscar-winning star thanks to her outstanding performance in the movie "Erin Brockovich". Julia is one of those celebrities that manage to keep a low profile when it comes to their personal lives, but once you are a celebrity, it is pretty hard keeping your life to yourself.
It is simply a price you have to pay. Being one of the highest-paid celebrities in the world and with an estimated net worth of about $140 million, surely a woman as beautiful as Roberts ought to take care of herself.
You have to look perfect every time you are on the red carpet or attending an auspicious event or gathering.
Julia Roberts is one of the few people that seem to look prettier as they age. The question is, is it that she has some great genetic structure or did science have something to do with it?
The actress has on several occasions rebuffed the idea of plastic surgery saying how important is it that a person should not hold too tight on her youth. She advocates for the idea of aging gracefully and insists that she wouldn't get a facelift, nose job or even a botox.
But does it mean that she has never had cosmetic surgery even once? This is questionable given the noticeable change in her facial features in her before and after pictures.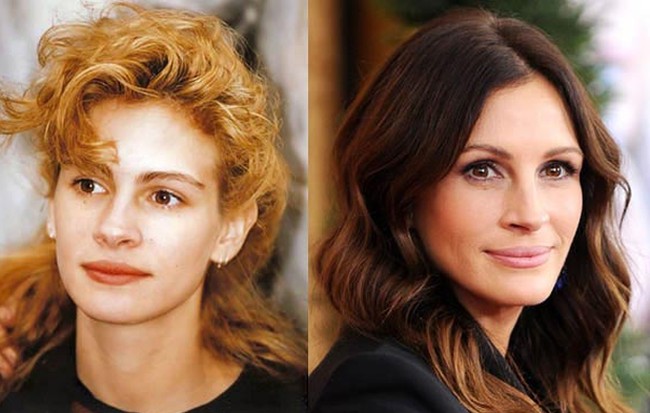 In a 1989 photograph, Julia's nose seems a little short and thick compared to her look 10 years later that showcases a rather trim long nose.
Her lips have also been a subject of speculation since you would expect a 47-year-old woman's lips to have thinned out a little, yet hers are fuller than before. The woman has also developed a fuller chest and given her slim statue, that's almost unlikely unless she underwent a breast augmentation.
Her skin remains flawless like a 20-year-old, does she maybe use laser treatment to take care of the damage caused by exposure to the sun for so long and the natural aging process?
There have also been rumors that Roberts who is well known for her striking signature smile went under the knife to correct the excessive gum visibility.
Additionally, we all know how hard it is to maintain healthy weight especially when you reach your forties; the actress may have gotten liposuction to keep everything tight and trim.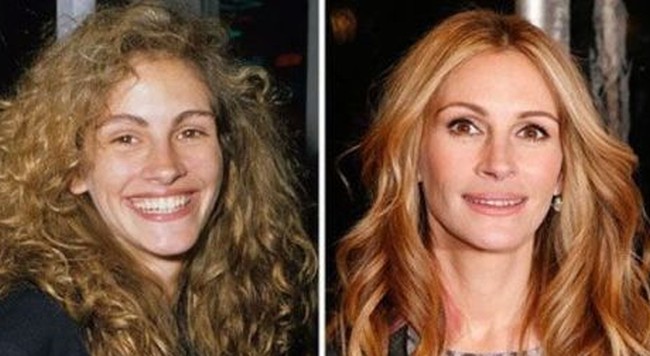 As much as the much beloved and overly talented actress and producer maintain that she had never had any cosmetic procedures done, it takes more than good genes to keep one looking like that.
At her age, there should be more skin sagging and less youthfulness. Even though she would not admit it, it's clear that Julia Roberts had plastic surgery done and it works very well for her. Her doctors definitely know what they are doing.