Heidi Montag is one of the countable celebrities who have at least admitted having undergone some plastic surgery to modify their looks. It has become a common thing to see our beloved celebrities enhancing their looks to keep young and attractive, especially from Hollywood.
Heidi Montag is a Reality TV star famous for her breathtaking beauty and sexy curves, only that she has changed a lot lately, making her fans to start worrying about her. At only 28 years old, the actress is rumored to have undergone under the surgeon's scalpel a number of times. In fact, the beauty queen is now regretting on some surgical changes she might have done on her appearance.
Here are the best and worst of Heidi Montag plastic surgeries.
Heidi Montag Cheek and Chin Plastic Surgery
A few years ago (2010), Heidi Montag went under the surgeon's scalpel to have 10 plastic surgery procedures in just one day. Among the surgical procedures, she got her F-cup breasts.
The former reality TV star revealed that she underwent the surgery after the late Dr. Frank Ryan pointed out to her everything that was a miss in her looks. She felt extremely insecure after the doctor left her worrying about anything and everything about her looks. That's when she had her cheeks injected with fat, and her chin reduced.
The doctor, however, didn't warn her of the pain and long recovery period that was to come along with the surgical transformations.
She is now complaining of stinging pain that accompanies her long recovery periods, a confession that has left everyone scared and shunning plastic surgery.
Heidi Montag Breast Implant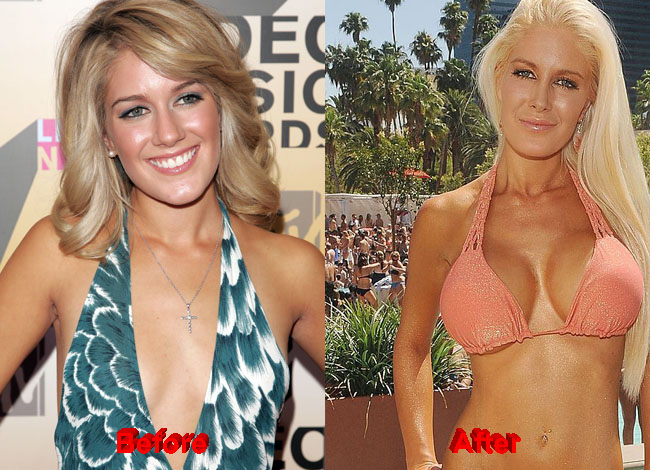 Recently, Heidi Montag went through another surgery to reduce her F-Cup breasts to C-Cup. This decided to do this after she suffered a series of health complications from the previous surgery.
Her boobs started to disappoint, and the previous implants had begun to cause her back pains and numbness in her arms. Her breast reduction surgery was performed by Angelina Jolie's plastic surgeon, Dr. Jay Orringer.
After the correction, we are only left to imagine she is feeling better about her new looks.
Heidi Montag Nose Job Plastic Surgery
Heidi Montag  got her nose modified in 2010 before she had it revised again a few years later. It has been rough for her with all the revision jobs, though she has benefited from them. It seems the first surgery had a lot of faults to it.
Before and after photos reveal that her nose has changed more than once, a clear confirmation that they aren't natural anymore.
The pain that came with Heidi Montag plastic surgery aside, she is still beautiful and admirable as a section of her fans would love to believe. Many still admire her body, only that some of us now associate her beauty with the pain she had talked about. But at least now she has promised us not to go for another surgery.
She is promising to "..age gracefully and bow out". let's just hope that she is right about that, because as much as we all know, Hollywood celebrities and plastic surgery never part, especially when that relationship is already established like in the case of Heidi Montag.
Isn't she brave to admit that she had plastic surgery?
Heidi Montag Plastic Surgery Before And After Photos