Lisa Rinna is one of the few celebrity actors who actually made a mark in the ever-intriguing days of our lives.
Having made a career in acting since the 1990she has successfully been re-casted in Melrose as a budding actor. Throughout her acting career, she has been known for her fuller lips which somehow made her identifiable to many.
Now at 49 years, this actor seems to be getting more work done when it comes to her appearance.
Confessions about her surgery
This 49-year-old has done wondrous in keeping herself in shape and defying age as it comes. However, it seems that she does love changing her appearance from time to time especially when it comes to her lips. This self-confessed lover of cosmetic procedures has not hidden the fact that she has had some work done when it comes to her lips.
Having previously loved the attention they gave her, it seems somewhere down the line that she got tired of them and actually went for lip reduction.
Lisa Rinna has also confessed to the fact that she has had experience with Botox injection to give her a more youthful look.
Jobs done
Lisa Rinna seems to stay true to her love of cosmetic surgery considering that she has gone under the knife a few times to actually get some modification.
It, however, seems that she was using Juvederm treatment to achieve fuller lips; a fact that may have contributed to her problematic lips that seemed to actually shrink and puff her lips within short periods of time.
However, she claims that she did use silicone to her top lip and not bottom lip that inevitably resulted in her having her classic pout.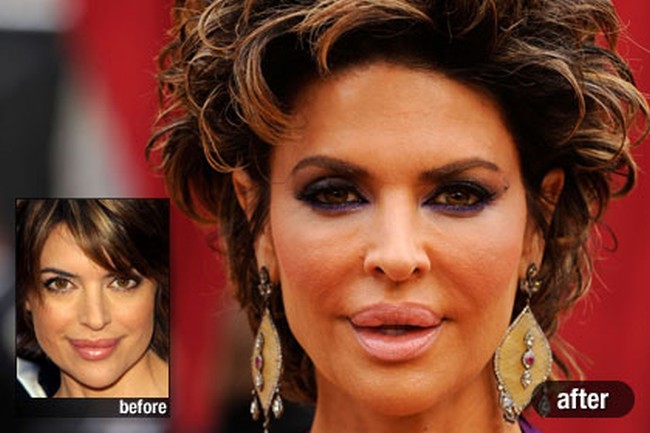 In 2010 however, Lisa Rinna underwent lip reduction; a fact that completely changed the whole outlook of her face.
Before and after pictures shows that over the years she has a dramatic size in the size of her lips.
Regardless it seems that she missed her pout and underwent some procedure to get them back in shape. Interestingly though she only claimed to have undergone Botox injection once, pictures in the media point out to another scenario altogether.
She has few fine lines and lacks the classic parenthesis around her mouth. These points put to the use of fat injection and Botox in between her eyes and around her chin area to smoothen the wrinkles.
There are many rumors that she also had breast implants surgery. Judge for yourself as you look at these before and after pictures.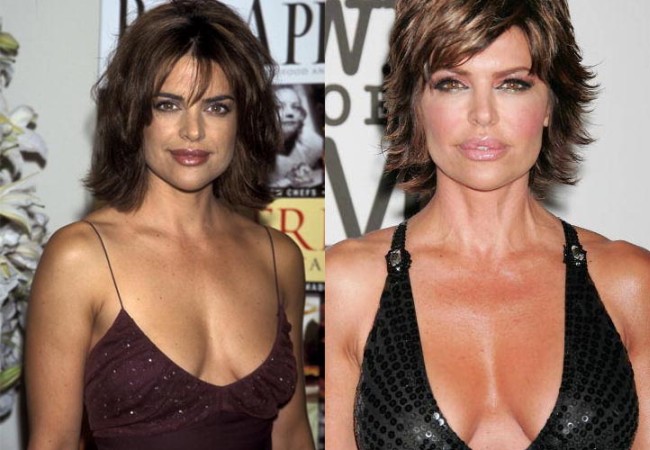 Opinion
Opinion about this celebrity plastic surgery procedure is divided. This is mainly because she has had numerous changes to her look. Some of them have been botched up procedures that inevitably gave her a weird unpleasant outlook.
This was unfortunate; however, her reply is that she actually did the procedure for her as it's her lips that define her, a fact that seems to be influenced a lot by the public.
Regardless it seems that she has brought back the pouty look as she knows adorns fuller lips that look more natural than before, better than she would have hoped for.